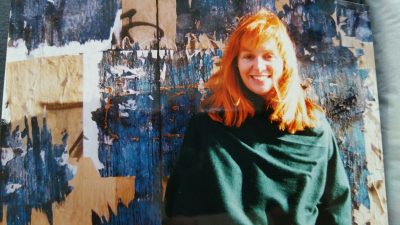 My work has sold to collectors in many countries including USA, Canada, UK, Ireland, Italy, Spain, France, India, Hong Kong, New Zealand, Australia and Indonesia. I have been lucky enough to have lived in many of those countries including Hong Kong, The Philippines, Indonesia, India, England and Ireland and I feel that my influences come from all of those places.
My artistic career began at my home in India in 1999. I started with small, black ink drawings which grew to very intricate colored ink drawings on large 40 x 30 ins paper. These works have been described as organic surrealism and often resemble fine lacework. I now work in various media – inks, watercolor, pastels and photography. I have a restless soul – maybe because I have moved around the world so much in my life – I need change and experiment in order to progress. Being an artist for me is being able to constantly reinvent myself by using different media and seeing where I can take it. I would feeling stagnant otherwise. How can one progress if one is always creating the same thing, if one isn't trying new things? My vision is always the same, it is the media that changes!
The most important thing for me in a work of art is a sense of movement, which is difficult to achieve when one is working on such a small scale. It is important for me never to lose sight of the whole piece when I am working in such microscopic detail. I have exhibited and sold my work throughout the world from New York to New Zealand.
Email : marianthony@gmail.com
Reviews:
"There is a needling, obsessive quality to her work that keeps it from being anything so blah as "pretty". These are forms that seem to spread virally to the edge of the page, landscapes are darkly distorted and her florals definitely aren't the sort of thing you'd see on a sofa – unless it was a particularly cool one. There's wonder and warning in them, an invitation to admire but to heed their wildness."  Kate Weir – Kensington and Chelsea Review
"Marian's work consistently showed that, even without realizing it, she had been absorbing all the cultures she had lived in  Hong Kong, The Philippines, Indonesia and now India. With no conscious intentions whatsoever, aspects of these rich cultures could be seen in her countless works. " Kreol Magazine
"We can now look at your patient stitches, one after the other, tying secrets to poetry and colour to shape." Benedetta Barzini
"It's a most exquisite painting and, looking at it closely, it's not only the superb sense of colour and design that impresses, it's the sheer technical bravura with which you apply those sweeps of colour leaving delicious little white "snowflakes" in its wake."  Reggie Oliver
"In her art the joy of life is translated as the pure joy of painting. Inner realisation reaches out to those aspects of life that can only be experienced when we are alert to the smallest, unnoticeable parts of nature. It teaches us that when we surrender the whole of our being to the wonders of life, nature in all its wondrous forms becomes magical." Armando Alemdar